Today is the traditional Mid-Autumn Festival. It is a harvest festival celebrated, as family members gather, loved ones joyously come to the reunion.
In the eve of one particular Mid-Autumn Festival, Su Shi (January 8, 1037 – August 24, 1101) , one of the most celebrated in the history of China, a writer, poet, artist, calligrapher, pharmacologist, and statesman of the Song Dynasty, missing his beloved brother far away, wrote this quintessential poem that became a standard recital piece for this particular holiday.
Thinking my folks, and all the people who miss their loved ones, I picked up my rarely used brush this morning. I too wish may those who love be blessed with amour and life that last.
"In this light and on this evening", we shall celebrate the moon. It is my prayer that families with their loved ones being away, particularly those of the servicemen and women, shall be living apart together in the spirit of love, that their emotions and sentiments shall be brought to a joyous reunion by the glory of the full moon, when it is shared by, close from afar, the millions.

水調歌頭 蘇軾

丙辰中秋欢饮达旦,大醉作此篇,兼怀子由。

明月幾時有,把酒問青天?
不知天上宮闕,今夕是何年。
我欲乘風歸去,唯恐瓊樓玉宇,高處不勝寒。
起舞弄清影,何似在人間。

轉朱閣,低綺戶。照無眠。
不應有恨,何事長向別時圓?
人有悲歡離合,月有陰晴圓缺,此事古難全。
但願人長久,千里共嬋娟。

Lustrous moon,
when do you decide to be full?
Holding up a cup of wine,
I submit my wonder towards the sky.
And Palaces unearthly high,
what would be their season tonight?
Riding the wind, to there I would go,
yet I am fearful it would be utterly cold.
In my chilly shadow I would be dancing alone,
I'm afraid it won't feel like home.

Around the red mansion,
through the silky curtain,
the moonlight glazes over the sleepless person.
Bearing no grudge,
I wonder how come is it oft full and bright,
when loved ones are to part?
Sorrow and joy in humans,
they part and may come in reunion.
Bright and dim as with the moon,
waxing and waning she goes through.
Alas, that's just how it is,
since the very olden days.
All I wish is for those who love be blessed,
with amour and life they last,
sharing the beauty of the moon tonight,
Though they might be far away apart.

Translation: Jonathan Chen
Calligraphy: Jonathan Chen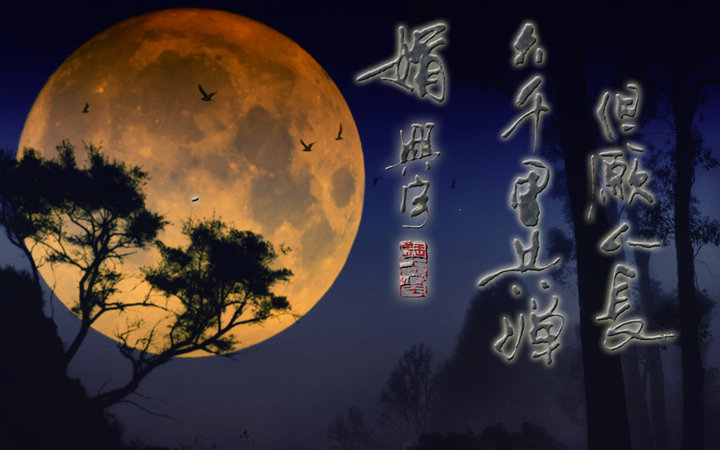 Tags: Moon