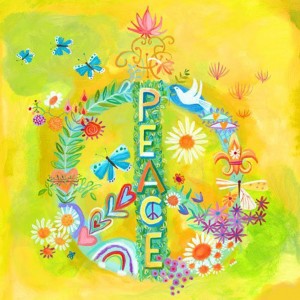 Upon until recently, my understanding of world peace relied heavily on diplomatic negotiations among nations, relied on leaderships of the free world to safeguard freedom, relied on democratic process that ensures protection for justice. While all of these are still vital, none of them guarantees anything. Because, any of these can be manipulated, misguided, and deceptive. True world peace can only be achieved when each and every individual human being surrenders himself wholeheartedly to peace, when each and every one becomes PEACE. We talk peace. We walk peace. WE ARE PEACE. Only then, violence will be cornered, oppression will find itself in no place to flex muscles. Let's make today count!
* * *
Only when we develop a genuine sense of love and respect towards all members of our human family, will we be able to sustain a true gratitude towards all beings in nature. That's when not only the world is peaceful, but also enchanting. Remember, we are all members of our human family, and our human family is a member of the bigger family of nature.
* * *
Everything in nature has its purpose in the grand desideratum of the circle of life. That purpose may not seem obvious to be directly beneficial to us humans. That does not warrant us the rights to destroy it. We must come to the realization that destroying any part of the structure will lead to the collapse of the structure itself.
* * *
The most coward act in the world is to use violence to suppress peace and obstruct justice. Peace and justice cannot prevail if the free world continues to tolerate such coward acts 
* * *
We are the same, and we are different. We are the same because we all are members of the same human family. We are different because each of us is unique. Love each other because we are brothers and sisters. Respect the individual liberty of each other because we all have our own individual personalities and needs and all of us are created equal and are endowed with basic human rights. That's the spirit of Diversity. From this point on, when we say Diversity, we mean the interweaving of Love and Freedom.
* * *
For too long the gift of diversity and the unconditional love mother nature endows we so have taken for granted. We expect her nurturing to continue indefinitely while compounding uncontrolled punishment to her. Our common mother will never tell us how much pain she has been enduring. But she has being teaching us silently how to love and be passionate without prejudice. Isn't it time that we return the love and compassion to her, and manifest love and compassion to each other and all beings? Doing so, we as children will console her and put a genuine smile on her heart, while creating harmony and peace for ourselves.
* * *
Deep down most people want peace, want to make friends, want to connect themselves with others. That's what humanity is all about. Violence cannot solve conflict, war plants seeds of hate that's inherent generations upon generations.
* * *
Being grateful and appreciative. Once that becomes our primary attitude, we open ourselves to endless enrichment.
* * *
Within the heaven of the godly peace lies love in all beings.
* * *
To be successful in any profession requires skill and knowledge. That usually means vigorous training and education. All it requires for being a champion for peace is a heart that believes in peace. Believe that I AM PEACE. My life is the message for peace, myself is an instrument for peace, my act sparks inspirations for others standing up for a nonviolence and cruelty-free society. Each of us may be a small drop. But collectively we converge onto an ocean that brings Peace to the world and extends our love and compassion to all life around us. Imagine!
* * *
True liberty cannot be attained if one lives in fear. Fear exists if one does not nourish oneself with inner peace.
* * *
We see, we hear, we think, we talk, we feel, we touch, we breath, we drink, we eat. We are codependent to all lives in the universe. Realizing this barefaced fact, it becomes apparent that anything we do has an impact on others, even it is some thoughts going through our mind. Invisible does not imply powerless. Invisible is the prelude to manifesting physical, and is contiguous to the state of mind of other beings. Underestimate not the power of a peaceful mind. It disseminates positivity to actuate livelihood. It sends amicability to comfort the surroundings.
* * *
Anxiety and uncertainty, being stressed and strained, fear and insecurity, these all are symptoms of lack of inner peace. All the learning for acquiring inner peace primarily directs to the same objective: shielding off the intrusion of annoyances cause by elements that are none essential to life. Those elements are countless. But the list for the opposite is quite short: liberty and compassion, both are attainable within one's own natural capacity.
* * *
When one is at peace with himself, with the surroundings, with all beings in the universe, he is no longer to be under obligation to himself or anyone else, nor does he feel anyone is under obligation to him. That's the state of liberty. In that state, there's nothing in him but compassion. Oh, my friend, do you see it?
* * *